Hi there, I am back with the hot shots and I hope this fires you to start a challenge of your own. In this HOTSHOT I share a challenge I gave myself, to sketch 100 people in one week. You'll see my sketchbook throughout the week in video and in detail here for your sketchinspiration!!
Let's start with the the video clip
//www.youtube.com/watch?v=6s9BuRk4Gmk
23. Challenge yourself to sketch or draw 100 people/figures in a week. This is a very demanding challenge inspired by Liz Steel, but it is very rewarding too. Setting goals are so important and essential to helping you excel and meet targets in your artistic pursuit. Before this challenge, even though I am addicted to sketching, I never for once tracked the number I did or gave myself this sort of target. This has really brought back my fire and desire to sketch on another level! I challenge you to take this on and share your experiences on my sketchinspiration blog or in the comments here below.
//www.youtube.com/watch?v=gU00VEPHgWU
These are the lessons I learnt from doing these sketches in one week.
The first lesson that really hit me doing these sketches is that, whenever you plan to do something phenomenal or drastic or challenging and you know you really need to do it-You need someone to be accountable to! Accountability would put your mediocrity in check. Because we all have a tendency to back off from things that take us out of our comfort zone. I was scared to make the announcement, but I managed to sail through because I secretly believed I could do it! That leads me to the next point
I learnt from doing these that BELIEF is everything! The moment you embark on any new road or any new venture, the number one ingredient is to see yourself having already achieved it! This is vital! Nothing can replace SELF-BELIEF, absolutely nothing! You've got to have the little something that says, I know, like I know, like I know-It's already done. Eben though I didn't announce I knew I could do it and that wasn't completely out of my reach.
I learnt that taking note of the number of sketches can be encouraging and also a bit discouraging, it depends on how you see it. When I was going through this challenge I thought I had done so many, maybe even more than 40, because I didn't start numbering immediately. But when I counted what I had done, I was shocked with disbelief! I had only done about 27 or so. That really made me feel a little low but then once I went past the 50 mark I knew I could do it and the numbering became a thing of joy!
It made more aware of my surroundings and alert at every single moment in public or where there were human beings. Just anywhere! Anywhere with people from life! Everyone around suddenly looked like a "potential-sketchmate". It made me appreciate being in the presence of living beings.
When I couldn't get living beings I did statues, at least in all my 100 sketches, I did 2 statues. This was something I did because I just wanted to keep at it and meet my target
This challenge thought me that I had not been making the best of every opportunity to sketch, I thought I was doing this before, until I got into this exercise, I then discovered that I wasn't making the best of every opportunity.
I learnt to make sure my sketchbook was always in my hand and not inside my bag. I was always ready to pull it out and just do it! I noticed that when it was in my bag, I was never ready to make the best of every opportunity. I was a bit slow and reluctant, and sometimes couldn't be bothered. but when it was in my hands I was ready!!!
this exercise reminded me of how it felt to be an addictive sketcher when I just started. I remember having so much enthusiasm and this challenge has brought it back.
It made me sketch at home again! Not having any commuters but my little daughter (who I used to love to sketch when she was younger). I got back into sketching her asleep with her doll.
Finally I learnt that this exercise shouldn't be abused by just rushing to fill the pages but to train one's eyes to see and record what one sees. It is all about the eye-hand co-ordination.
Please feel free to share, like and comment, if you've gained something here with social media buttons by the left side.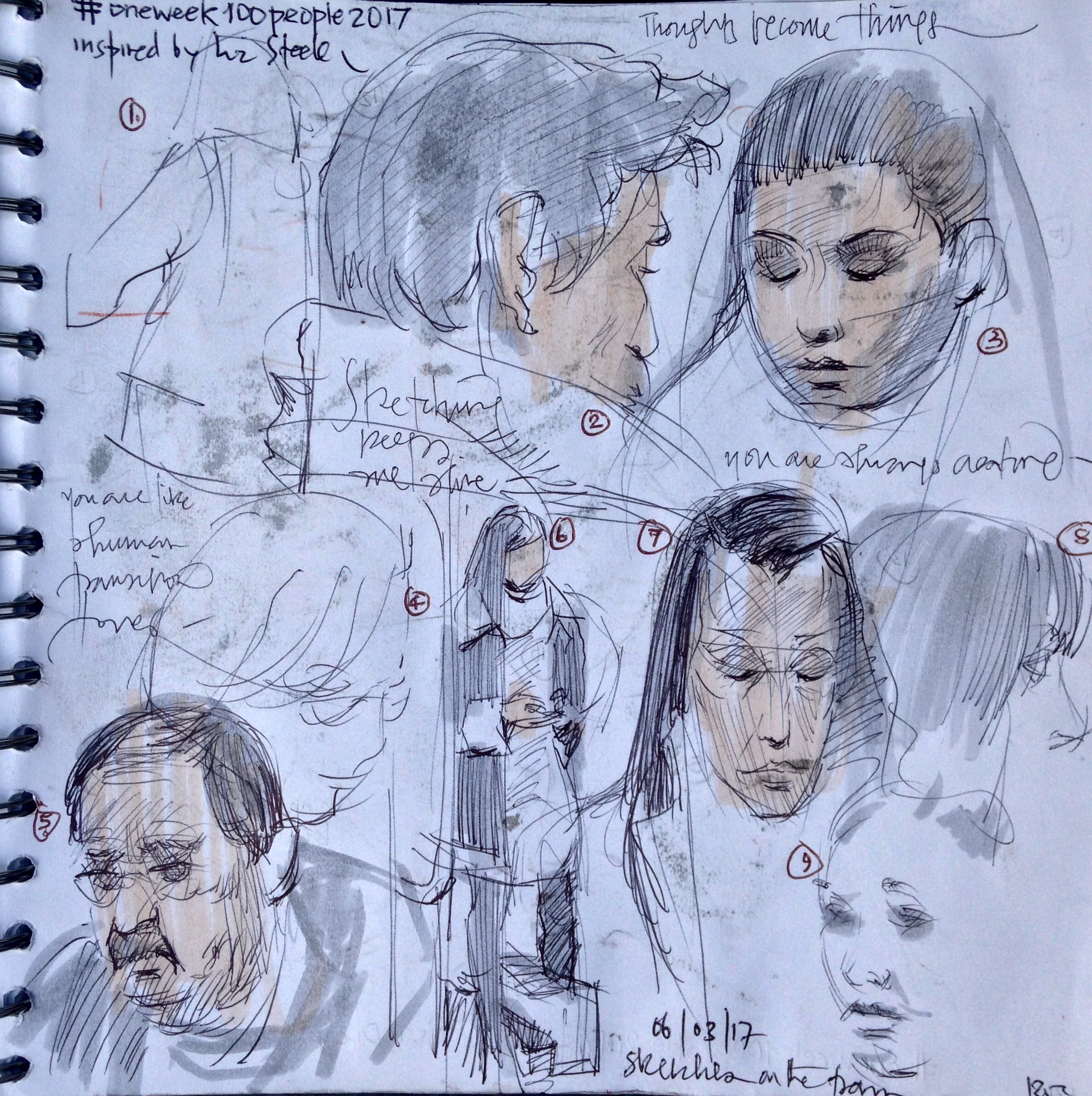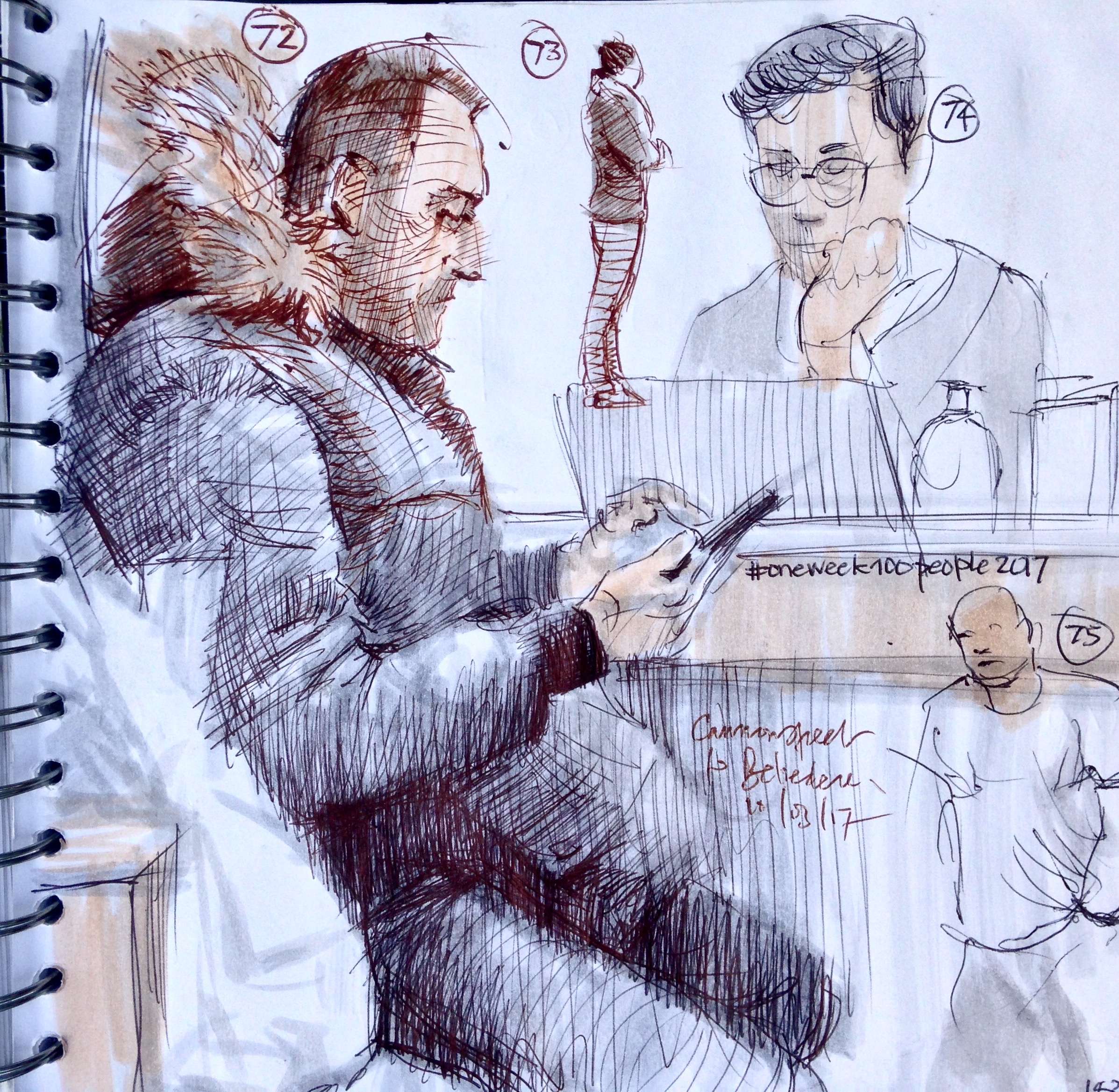 #Oneweek100people2017 (Page 9)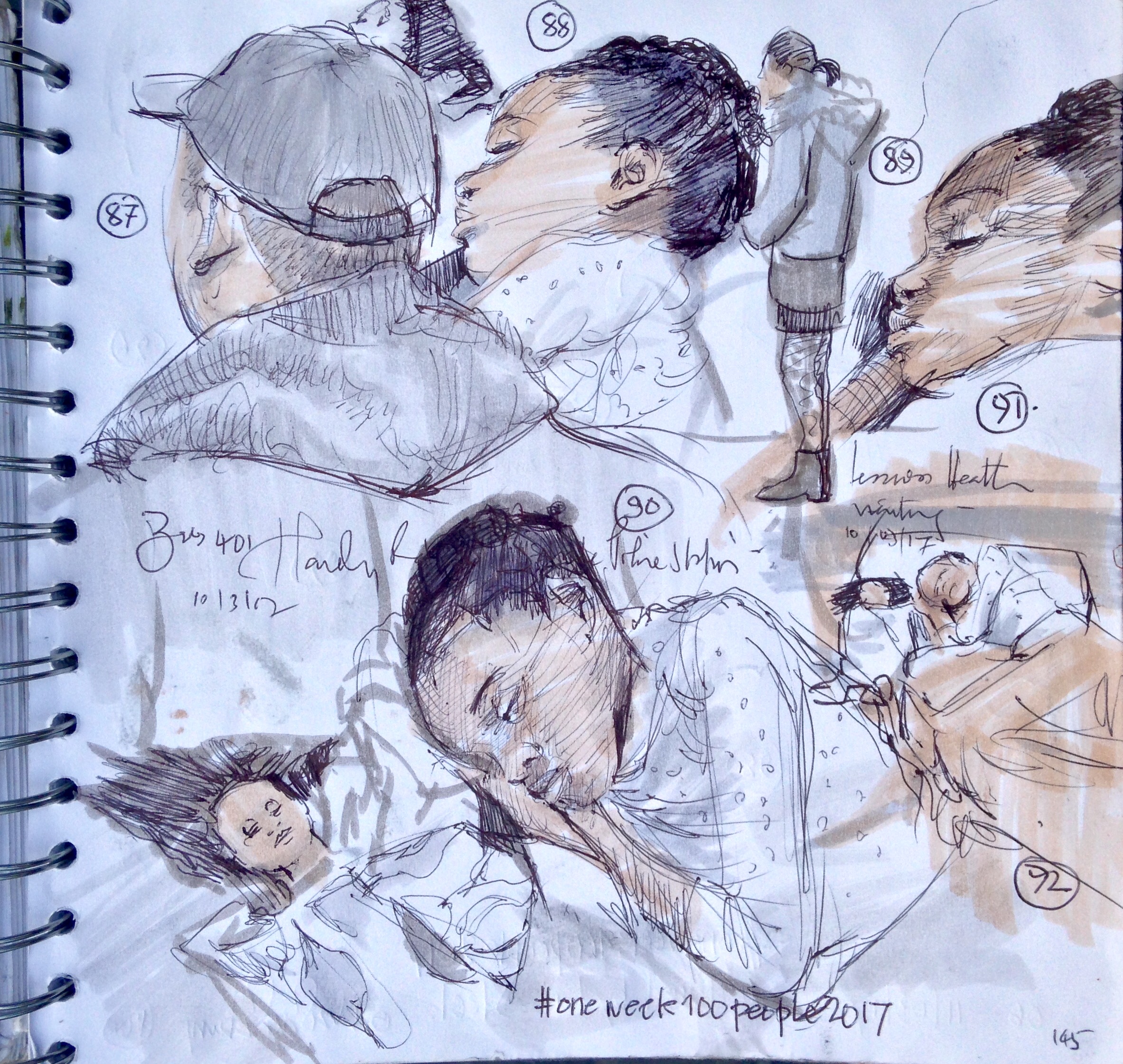 #Oneweek100people2017 (Page 11)